Ayurvedic rasa for immunity during winters
Monday, October 18, 2021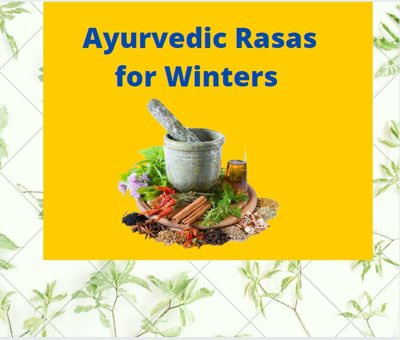 Ayurvedic rasa to boost your immunity during winters 
During winters, taking care of our immunity becomes quite challenging. We get to face chilled temperatures combined with dry wind. Further, both of these might result in viral illnesses such as flu or common colds. Moreover, winters come with many holidays back to back, engaging us throughout the season. Hence, during these times, paying attention to our immune well-being becomes tougher. Holiday celebrations, festivals, are definitely enjoyable but at the same time, it affects the quality of our everyday diet. When there are multiple holiday special sweets and other dishes, plus all our family members gather together, escaping from eating unhealthy becomes impossible. But, for immunity, having a balanced diet is a must. Apart from this, we also need to be aware of potential health risks and infections linked with the winter seasons. We need to keep our immune system strong to fight a variety of diseases.
Whether you already have the flu or are doing great with your health, we have a list of naturopathic rasas that will fill you up with great health benefits aside from boosting your immunity.
So, let us take a look at these natural immunity booster products:
Brihat Vatchintamani
This is prepared by the oldest and most effective medicinal herbs of India. It is available in the form of tablets. The ingredients used have been part of the Ayurved health care system from ancient times. You can get Brihat Vatchintamani from top Ayurveda marketplaces at a reasonable price. It is a perfect product to have during winters to maintain the health of your gut system, making it stronger.
Other benefits of brihat Vatchintamani :
Apart from improving immunity, it is also used for curing the following given diseases:
● It can be used for treating paralysis, psychosis, epilepsy, and facial palsy.
● It is the best companion for older people as it works amazingly as a rejuvenating supplement working as an anti-aging natural medication.
● Additionally, it is also beneficial for the treatment of disorders such as vertigo, migraine, and different kinds of digestive diseases.
● Further, you can use it as a co-prescription or catalyst with other medications that you use for treating different disorders. Usually, doctors recommend it for neuritis, spinal cord and demyelination, and neuropathy.
● For the treatment of several lung diseases, heart diseases, cough, cold, and diabetes, as well as certain respiratory disorders.
Some of the side-effects of Brihat: 
● Never try to self-medicate yourself with it, as it might turn out to be fatal to your health.
This is so because it contains ingredients like Aconitum. Always take this medication in the exact dose recommended by your doctor for a limited time.
● Do not overdose as it may result in poisonous effects on your body.
● If you are pregnant or currently breastfeeding, then it would be better to avoid this product.
● Children must not be given this medication. Also, keep it in dry and cold storage to maintain its quality.
Key ingredients of the Brihat Rasa :
● Swarna Bhasma
● Pravala Bhasma
● Rajata Bhasma
● Mukta Bhasma
● Abhraka Bhasma
● Suta Bhasma
● Loha Bhasma and pure juice extract of Sulphur of Kumari
The key ingredients are finely grounded along with the juice extract and made into pills.
The required dosage for this product
One tablet with honey three times a day is a standard recommended dose.
Arshkuthar
This natural immunity booster also comes in tablet form, additionally, it is an excellent product for different kinds of digestive problems. Consuming this product throughout the colder season will 100% help you improve your digestion power and cure symptoms of indigestion. If you want to get the product you will need to browse some of the well-reputed natural product stores. In fact, you should always buy prescription tablets from good sources only, as at present there is a rise in medicine frauds which can be dangerous for your health. Hence always make sure you buy only 100% natural remedies.
Other benefits of the ArshKuthar tablet
● It is an excellent treatment for piles or hemorrhoids. Piles swell the inside and area surrounding the anus, which becomes very painful to live with. The condition ranges from mild and temporary to even persistent. Do proper treatment is very important if you suffer from piles; Arshkuthar can be useful in relieving the symptoms.
● It is very helpful in managing eating disorders or anorexia. Factors of the immune system are automatically the latest beneficial in this medical condition.
Some of the side effects of ArshKuthar Ras
If taken without consultation, it may cause diarrhea, headache, stomach pain, dizziness, severe bloating, drowsiness.
Key ingredients used: 
● Kajal
● Lauha Bhasma
● Shunthi
● Tamra Bhasma
● Danti Mool
● Marica, Pippali
● Surana
● Vamsha
● Shuddha Tankana
● Yavakshar
● Saindhava Lavana
The required dosage of the product 
Though you must follow the instructions of your physician, one or two tablets of 250 to 500 mg can be taken in the morning and evening. You can have it with buttermilk or, as suggested by the doctor.
Kamadudha
Classic naturopathic medication Kamadudha ras with Mouktika is one of the best Ayurvedic products for good immune health. It also relieves gastric-related problems, hyperacidity, and other disorders due to Pitta imbalance. It is extra beneficial during later seasons of the year. This product is commonly used in the majority of North Indian regions; however, it is gaining equivalent demand in other regions across India as well.
Other benefits of Kamadudha 
● It helps in relieving the burning sensation and purifies your blood.
● Also, this product is effective in treating digestive elements, chronic diseases, nausea, chronic fever, vomiting, debility after fever, and vertigo.
● The product contains anti-inflammatory and antiemetic properties. Also, it is a potent antacid.
● It can also act as a provider of good amounts of natural calcium and iron. Moreover, the product is considered safe to use.
● This product is 100% natural and hasn't been noted to have any side effects yet.
Key ingredients of the product
● Mukta Pisti, it a powdered form of pearl which is triturated with pure Rosewater.
● Mukta sukti Bhasma, also known as Calcined Oyster Shell.
● Private Pisti, the powdered form of coral triturated with Rosewater.
● Kapardika Bhasma is also called Calcined Cowrie.
● Shudha Suvarna Gairika is a purified form of Red Ochre.
● Guduchi Satva is the starch extract from Tonospora Cordifolia.
The required dosage of the product:
There is no mentioned dosage for this herbal medication; hence your doctor will decide it for you based on your health condition.
Vasant Malti Ras
This naturopathy product is a combination of mineral and herbal ingredients. It is sold in the form of pills and traditionally used in the North area of India as an herbal cure for multiple diseases. It is, in general, good for the digestive tract when taken in proper doses. You can get this product online from homeopathy stores if you want to revive your immunity power this winter. It is a great product to balance Kapha and Vata in the body.
Other benefits of Vasant Malti Ras
● Chronic fever can be treated by using this prescription. In addition to it, you can also treat your cough, cold, tuberculosis, bronchitis, and even chronic asthma.
● Not taking the medicine as recommended by the physician can be fatal to consumers' health. Hence, strict medical supervision is very important.
Side effects of the product
● In case of overdose, it can cause severe gastric problems. Generally, not more than one tablet at a time is recommended.
● Young children must avoid taking this medication.
● Women who are pregnant or lactating must avoid having this tablet.

Key ingredients of the product ingredients
● Svarna Bhasma or Gold Bhasma
● Mukta Bhasma or Bhasma of Pearl
● Darada, another name for purified Cinnabar. It is an ore of sulfur and Mercury and.
● Maricha – Piper nigrum- Pepper
● Kharpara – rasaka
Mentioned ingredients are well-grounded and then mixed lemon juice while being prepared as pills. Further, they are mixed with:
● Parada: It is a processed and purified form of Mercury.
● Gandhaka: A thoroughly processed and purified product of Sulphur.
●    Vyosha – this includes pepper, ginger, and long pepper.
● Tamra bhasma, also called Copper bhasma
● Ayas Bhasma, the Iron Bhasma
Then, they are grounded with juice extract of Kantakari, Dhattura for Datura metal, and Katuki or Picrorhiza kurroa.
Dosage requirement of the product
One or two tablets of 125 mg can be taken once or two times throughout the day. There is no specific way to have this tablet. You can have it either before or after your meal or however your naturopathy physician has directed you to consume.
Conclusion
Ayurveda has been a part of Indians since ancient times. In fact, today, the western medical field is showing interest in learning about Ayurveda's benefits for multiple diseases. Good immunity is one of the important parts of being healthy as well as it reduces the risk of future health complications. Check out these four effective Ayurvedic remedies made up of herbs to maintain a good digestive system this winter season.