Mukhwas- Mouth Freshener for festive Season
Friday, October 29, 2021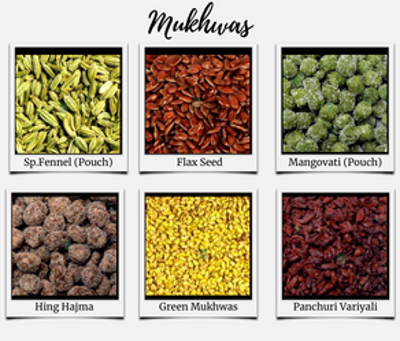 Typically, Indian households have a platter of various condiments in their kitchen to give additional flavors to the meal. They also have complex and magnificent-looking platters with various mouth fresheners that can be sweet, nutty, or quite savory, almost like aniseed. One uses such mouth/breath freshener after-meal snack or digestive help, particularly after meals.
This natural mouth freshener is easy to make and nutritious and can be found in almost every Indian home. Food coloring or sugar-coating of some of the ingredients, particularly the fennel seeds, can make it more colorful. It can be preserved for a long time if the Mukhwas has been cooked properly and dried adequately. After a meal, a mouth freshener can help to refresh the mouth and breath. Aside from that, an Indian mouth freshener can help with digestion. When you chew a mouth freshener, saliva is released, which aids digestion.
Origin and history of Mouth Freshener
It was considered auspicious and presented to deities, according to several religious scriptures. Furthermore, several Indian monarchs are said to have enjoyed these products, according to culinary historians. India is a land of spirituality and religion. As a result, believers present Pan (Tambool in Sanskrit and Betel leaf in English) to God after the meal. In India, the practice of using mouth fresheners has lasted for generations.
The mouth freshener market in India will develop at a substantial rate of approximately 8.9% from 2020 to 2026. The expansion of this market is driven by product innovation, increased awareness of oral hygiene across the country, and novel product launches by global players. Furthermore, thanks to the forces of colonization and globalization and the spread of the Indian diaspora in other parts of the world, this pattern has extended to other regions of the world.
Mouth Freshener as Indian traditional in food has been there for ages and most of the foreign travelers who visited India during ancient times mentioned the special use of seeds and herbs as mouth Freshener in India.
Health benefits of Mouth Fresheners
There are several benefits and advantages mouth fresheners such as Fennel seeds can provide, boosting your health. We Indians have always been full of rituals and consuming these seeds, and other organic herbs such as palm candy as mouth fresheners have been among our age-old cultural practices. Scientists claim that many people develop a tendency that helps them get the food digested only after consuming mouth fresheners. Hence if we see, we can use this tendency to help a patient get relief of constipation and indigestion.
Other researchers suggest that a combination of different mouth fresheners, basically known as taal misri, can help people fight against E. coli. E. coli is a very harmful bacteria that can cause distress in the digestive system making a person sick with many fatal diseases. These can help you fight many digestive problems.
A combination of fennel and palm candy can help you in cooling your body temperature. The relaxing drop of temperature helps in easy digestion and ultimately reduces the blood pressure of individuals.
On the other hand, we all have witnessed how our organic mouth freshers can help to remove the foul smell from our mouths. It ultimately improves the breath quality.
How did Saunf become an essential part of mouth fresheners?
Indians have always been a massive fan of food items that looked good or smelled pleasant. In the process where the aroma was among the main factors to be considered while selecting an edible, leaving fennel seeds out of the list would be inappropriate. India produces dried fennel seeds or so-called Saunf in huge quantities. India currently has more than 1.4 million metric tons of these seeds, which itself is something awe-inspiring.
According to data, people used Saunf as a mouth freshener from ancient times. It is used with different mouth freshers across India with various items in different combinations to give the mouth fresheners a pleasant aroma and taste. For ages, people used Fennel seeds in dried form. It increases the flavors and boosts up the smell of mouth fresheners.
Different food anthropologists in India suggest Saunf being a big part of Indian meals. Candies and chocolates cannot change the role of these seeds as mouth fresheners. However, the ways to consume it keeps on changing with time. These days one can find sugar-coated Saunf. Though they are sweet to taste at first, what remains is the authentic taste of Saunf after the sugar fades.
Nutrition and Mouth Fresheners
One Must notice that these mouth fresheners are a mixture of some of the best aromatic seeds and organic products. Often people consume these after consuming food, but these mouth freshers gain their importance during the festive season. This festive season, try to know why these unique Indian mouth fresheners are essential for consumption and can help boost the nutritional aspects of your body.
A general combination of mouth fresheners, including Saunf, can benefit people who have Vitamin deficiency. Amla Mukhwas can help to nourish your eyes. These mouth fresheners can help you with its rich Vitamin C storage to compensate for such nutritional lack in the individual body. Other minerals such as Calcium, phosphorus, and iron are also present in these mouth fresheners.
Essential components of Indian Mouth fresheners
India is a beautiful country with many variations in spices and taste of the food once you travel from one place to another. Similarly, you can also see a vivid change in different mouth fresheners according to the place you are in India. However, the primary ingredient remains the same. So, some of the primary elements in Best Mukhwas is-
● Saunf- We have already mentioned a lot of these seeds in the article above. The best part about Fennel seeds is the fact that they are sweet and pleasant to taste. One can get a refreshing taste by consuming these seeds after a heavy meal. It is great in handling the warm and unpleasant burp and its after taste. People Also consider the ingredient a pleasant palate cleanser that can help clean your palate in no time. If you are looking for ways to break down the fat and carbohydrate in your meal, then Fennel seeds are the best options to go for.
● Ajwain- Ajwain, also called the Carom seeds, is another ingredient of these mouth fresheners. Often people find it very problematic to deal with the stinky palate, but Ajwain is good enough to help you out here in this case. On the other hand, the complex taste eliminates gas and bloating instantly. If you struggle hard with dealing with flatulence and want to boost your digestion, this is not a bad option.
● Jeera- Jeera is probably the most used dried seed used in an Indian household. This ingredient is unique in dealing with problems related to the gut and more. It can also work on the pancreatic enzymes and cause their secretion to promote the entire digestion process.
● Pumpkin seeds: These seeds are a perfect option to consume just after consuming a high-grade heavy meal. The seeds are very rich in proteins which is a great plus point out there. It also has a good storage of minerals and is a good source of potassium, iron, phosphorus, magnesium, and zinc.
● Flax seeds are one of the most surprising elements present in Mouth Fresheners these days. People often don't consider Flax seeds necessary, but on the other hand, clinical evidence is good enough to prove that these seeds have a good number of health benefits. These seeds have also reduced the bad cholesterol level up to a magical extent.
Getting social with mouth fresheners
Mouth fresheners are not just good for health and digestion help, but they are like entry passes to a group entry. People are more comfortable with each other if they have an exceptional taste in dishes and mouth freshers.
If one wants to be a part of a social discussion, then trying to offer mouthwash is an incredible hack. People like these mouth fresheners, and it's a must for several people after a heavy meal. It can produce a sense of relaxation, which ultimately increases your chances of getting close to these people.
On the other hand, many people restrict themselves to be a part of such social gatherings. There can be several problems, but there is a high chance that a foul-smelling mouth can limit a person from speaking in a group. But don't worry, as mouth freshener can help you to get rid of your foul-smelling mouth.
Get the best
One must check a combination of such organic spices to get a good mouth freshener before consumption. A lousy-tasting mouth freshener can make you vomit, which can lead to many life-threatening conditions and so on. Hence select accordingly and be wise to get the real taste of these mouth fresheners.
In this festive season, mouth fresheners are essential as they provide a relaxing and refreshing taste. These fresheners mentioned here can help lift the spirit of the human mind and relax the body, which is all you want from a festival.